FULLY FUNCTIONAL SMILE RESTORATIONS

If decay, disease, and damage have left you with an embarrassing smile, you may be thinking you're destined to spend the rest of your life avoiding family and friends and forgoing potentially rewarding opportunities. A smile that appears broken, incomplete, or lacking in good health can not only negatively impact your self-esteem but cause others to formulate a not-so-great first impression upon your initial greeting. Fortunately, at Ritchie Dental Group, we can provide full-mouth reconstruction to eliminate imperfections, repair your smile, and enhance your appearance. It will give you the confidence you need and the ability to move through your day-to-day without worrying about what others are saying about your smile. If you are interested in learning more about this unique service, call us to schedule an appointment.
WHAT IS FULL-MOUTH RECONSTRUCTION?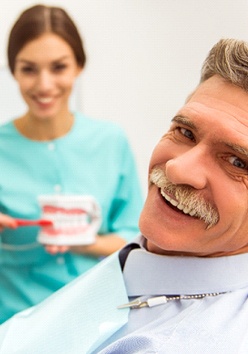 Combining restorative and cosmetic services, our team at Ritchie Dental Group can create a personalized treatment plan that is designed to fix the problem areas of your smile and transform the way you look and feel. Whether suffering from cracks, chips, missing or broken teeth, stains, severe decay, gum disease, or infection, this unique restorative service makes it possible to replant the seed of hope into your mind and create a smile that you've always dreamed of having.
WHAT CAN I EXPECT WITH FULL-MOUTH RECONSTRUCTION?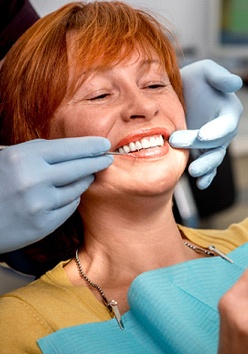 When facing multiple issues that make it difficult for you to speak, chew, and eat with confidence, Dr. Ritchie and his team will need to thoroughly examine your oral cavity and facial structure with the help of digital X-rays, a visual exam, and impressions taken of your smile.
Not only will these work to create a full picture of the problems you're experiencing, but they will also make it possible to create a more accurate and precise treatment plan that includes any of the following services:
Crowns and Bridge
If you need to protect a weakened tooth damaged by severe decay or trauma, we can place a customized dental crown over the tooth to add a layer of protection and keep the natural structure intact while it heals and strengthens.
If you are missing a tooth and prefer to go the less-invasive route, a dental bridge can be created fusing multiple dental crowns. While the two outer crowns will fit over natural, healthy teeth, the interior crown will rest on top of your gums to complete the restored look.
Onlays and Inlays
If you have minor damage occurring within the grooves of a tooth, we can create a customized inlay that will be cemented within the cusps of your tooth. However, if the damage is more extensive or severe, it may be necessary to create an onlay that also fits within the grooves of your tooth but also extends over the cusps and covers more of the surface.
Porcelain Veneers
If you're looking to hide imperfections on the front surfaces of your teeth, these thin, wafer-like coverings can be custom-made to fit over your teeth and hide any flaws. Although requiring the removal of a small portion of enamel, veneers are a permanent solution that produces a transformational change in your appearance.
Dental Implants
Want to replace your missing teeth with a more permanent, stable solution? Dental implants are surgically placed into your jawbone and offer a more sturdy, durable, and functional option for tooth replacement.
Dentures
If you want a more cost-effective way to replace an entire arch of teeth, dentures have been and continue to be a tried and true method of treatment for individuals in need. Not only are they more aesthetically pleasing nowadays, but they are designed to last longer and offer patients a safe and effective solution that is reliable.
BENEFITS OF FULL-MOUTH RECONSTRUCTION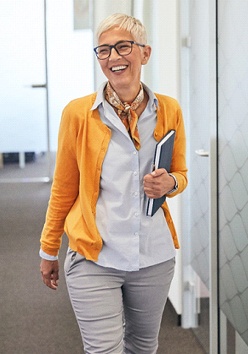 If you dream of having a healthy, beautiful smile, full-mouth reconstruction can turn that dream into a reality. Living with damaged and decayed teeth no longer has to be an option. Thankfully, our team can have you reaping the multitude of benefits that can come with this cosmetic and restorative solution, such as:
Improved appearance and a boost in confidence
Less pain in your jawbone, facial muscles, teeth, and gums
Greater functionality when chewing, speaking, or eating
Better oral health by addressing problem areas and restoring smiles
---