DENTAL SEDATION OPTIONS FOR ORAL HEALTH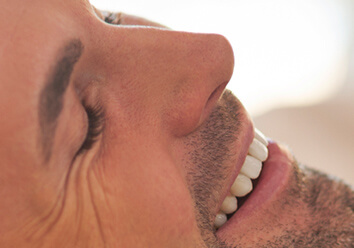 When you think about visiting the dentist, do you get nervous? Perhaps you begin to get so anxious that you experience panic. When this happens, you're likely to skip dental visits that would otherwise help you achieve an oral health that isn't possible when you don't seek professional help. With sedation dentistry from Ritchie Dental Group you can overcome these feelings and undergo the care you've been putting off. Sedation dentist Dr. Ritchie works as a nitrous oxide dentist and provides oral sedation to help, making it easy for you to find the dental sedation option that will best help you.
Sedation Dentistry Options
Sedation dentistry options have improved over the years, and now you have several options including:
Nitrous Oxide: For a simple procedure or for those who only experience mild anxiety about dental appointments, nitrous oxide dental sedation provides a light sensation of warmth and euphoria, wears off quickly, and is easy to control. If you don't care much for the effects of stronger forms of sedation dentistry, ask us about nitrous oxide at your next appointment.
Oral Sedation: Oral sedation dentistry has really grown in popularity through the years, making it easier than ever for you to overcome intense feelings of dental anxiety or even just enjoy your visits to the dentist more. When you turn to a sedation dentist who offers oral sedation dentistry, you ensure that your fears will be erased and replaced with complete comfort.
Fear The Dentist No Longer – Try Sedation Dentistry in Brady or Marble Falls
When you make your appointment at the Ritchie Dental Group, ask us about sedation dentistry options. Your sedation dentist will review the choices with you and provide you with guidance. If you select oral sedation, you take a pill as instructed prior to your appointment. Of course, we insist that you have someone drive you home after your conscious sedation dentistry visit, but nitrous oxide wears off so quickly that you can drive yourself home. We can provide you with dental sedation during a checkup and cleaning or any of our other dental care treatments, no matter how simple or complex.