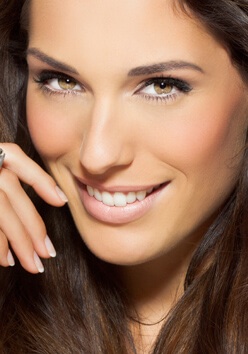 SMILE MAKEOVERS IN MARBLE FALLS AND BRADY TX
At Ritchie Dental Group we understand you always want to put your best face forward, and if you're embarrassed by stained, aging, chipped, or crooked teeth we can help. If you want a cosmetic dentist who can give you whiter, straighter, more gorgeous teeth, we can create the beautiful smile of your dreams right here in our family dental office with personalized cosmetic dentistry treatment plans.
COSMETIC DENTISTRY TO SMILE ABOUT
We use all-porcelain veneers, custom-designed to complement your face's symmetry and skin tone to transform your smile in as few as two visits. We also offer Zoom! professional teeth whitening in our office, or we can create a customized whitening kit so you can whiten your teeth in the comfort of your own home.
Restorative Solutions in Aesthetic Dentistry
We also offer restorations and fillings color-matched to blend seamlessly with your natural smile. We can even replace old metal fillings with tooth-colored fillings to further restore the natural beauty of your smile. During your next visit, ask us about smile analysis and how we can complete your smile makeover. In order to give you the gorgeous smile you deserve and always dreamed of, our cosmetic and aesthetic dentistry services include:
Complete Smile Makeovers
When we bring together multiple cosmetic dentistry treatments in a single treatment plan, we create a complete smile makeover. Cosmetic dentist Dr. Ritchie enjoys helping patients with advanced cases of dental damage with repairing the look of their smiles and restoring complete function. When you flash your smile, it's the main thing people notice; make sure it's worth seeing with a complete cosmetic dentistry smile makeover from Ritchie Dental in Marble Falls.
We'll meet with you to design every aspect of your smile makeover, determining which cosmetic dentistry procedures will best fulfill your desires. You know what you want; Dr. Ritchie simply seeks to make it happen. You'll be amazed at the total care you receive at Ritchie Dental Group if you are in the Marble Falls – Brady, TX area, including Burnet.
LEARN MORE ABOUT SMILE MAKEOVER
Get a Beautiful Smile With a Cosmetic Dentistry Appointment at Ritchie Dental Group.
Questions? Looking to schedule an appointment with our award winning cosmetic dentists? Simply, call or message us using the form on this page. We look forward to helping you attain the beautiful smile you've always dreamed of.
COSMETIC TEETH BONDING
Maybe you have minor imperfections in your smile, but don't want to invest in a treatment like teeth whitening or porcelain veneers. For a more affordable and less invasive solution, we offer cosmetic teeth bonding. Using a putty-like, tooth-colored composite resin, we can sculpt your tooth into the desired size, shape, and proportion to give you the perfect smile you've been dreaming of.