TEETH REPAIR AND RESTORATIONS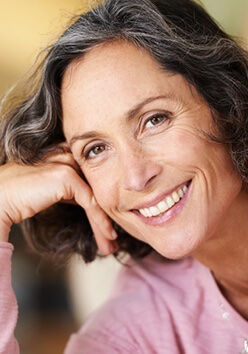 dental bridge and crowns for teeth Brady TX and BurnetFor patients from the hill country, Ritchie Dental Group focuses on making sure that you can find the dental care you're looking for. We offer a wide range of restorative dentistry services to those in Marble Falls, Brady, and Burnet, and help patients whose smiles have suffered damage both minor and major. We can create beautiful porcelain crowns for teeth, and we offer various tooth replacement methods, including dental bridges.
Beautiful Solutions for Dental Damage
When you have a cavity or a broken tooth, you want a solution that is as beautiful as it is functional. Restorative dentistry offers the answers to these problems, and with modern restorative dentistry materials, it does so beautifully. We can provide you with tooth-colored fillings at Ritchie Dental Group in Marble Falls, using this natural-looking cavity solution to repair dental decay. With porcelain, we can provide you with great looking crowns for teeth, helping restore teeth that have been broken, fractured, severely damaged, or treated for infection.
Tooth Replacement via Dental Bridges, Dental Implants, or Dentures
Tooth replacement is another type of restorative dentistry, and we offer dental bridge, dental implants, and dentures at Ritchie Dental Group in Marble Falls, TX.
Dentures are a removable type of restorative dentistry tooth replacement, and people have been relying on dentures for hundreds of years. This option can be extremely cost effective and is often recommended for people with specific health concerns.
Dental bridges are non-removable and a great option for patients who still have healthy teeth surrounding the space where some have gone missing. Dental bridges don't require surgery, which makes this option less invasive than the placement of dental implants, but a dental bridge still offers the security of permanently placed tooth replacement. Crowns for teeth anchor your dental bridge in place.
Dental implants are another restorative dentistry option for replacing your missing teeth. We invite you to learn more about dental implants here.
FULL-MOUTH RECONSTRUCTION
Full-mouth reconstruction is a viable solution that combines both restorative and cosmetic services to address problem areas of your smile. When decay and damage leave your teeth broken, missing, chipped, or cracked, our team can create a personalized treatment plan that will have you seeing a new and improved smile and embracing a greater quality of life. When you feel as if you'll never know what it's like to have a beautiful, healthy smile, consider the possibilities with full-mouth reconstruction.
Restorative dentistry gives us the tools we need to help you with full-mouth reconstruction at our Marble Falls and Brady, TX dental offices. If you've avoided the dentist for years and have several different types of smile damage, we can perform several different restorative dentistry treatments together to rebuild your broken smile. To find out more about your smile's restorative needs, contact Ritchie Dental Group.