PROFESSIONAL TEETH WHITENING SERVICE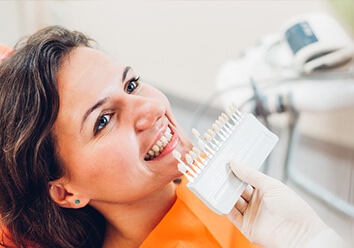 If your teeth are stained or discolored, Zoom!® teeth whitening is a great way to jumpstart your teeth whitening process and eventually give you the brilliant smile you've always wanted. This in-office teeth whitening system will make your teeth dramatically whiter in about an hour at the Ritchie Dental Group. The Zoom! whitening procedure is both a simple and safe way to whiten teeth and has been proven effective in more than 15,000 dental offices around the world. When you're considering teeth whitening, you can count on Ritchie Dental Group in Marble Falls, TX and our Zoom! tooth bleaching system to provide reliable and stunning results.
WHY YOU SHOULD CONSIDER TOOTH WHITENING
Our teeth can be stained by wine, tea, coffee, or tobacco. Even some medication, antibiotics, excessive fluoride, and aging can leave our teeth dull and discolored. Teeth whitening is one of the safest, most accessible ways to transform your smile quickly and effectively. At Ritchie Dental Group, we can brighten your smile with a Zoom! in-office teeth whitening treatment or send you home with a customized whitening kit so you can whiten your teeth on your own time, in the comfort of your own home.
The Zoom! Process
You may have heard of "laser teeth whitening." In reality, "laser teeth whitening" is actually light-activated teeth whitening. Zoom! teeth whitening at Ritchie Dental Group in Marble Falls is light-activated, and this system works great for brightening up even seriously stained teeth.
Zoom! tooth bleaching can take your teeth up to ten shades whiter, and will remove the toughest stains to create a dazzling smile in just one hour. This revolutionary system produces results that last for years. You can also choose to supplement your new white smile with a take-home touch up kit with comfortable custom trays for easy at home whitening. Regular brushing and flossing, plus an annual touch-up at home will enable you to keep your beautiful smile white for years to come.
Zoom! is just one of the many cosmetic dentistry treatments offered at our Marble Falls and Brady, TX dental offices. We invite you to explore other options like porcelain veneers, Invisalign, and dental implants. With so many choices, you can finally achieve whatever you want for your smile.
TEETH WHITENING FAQS
Do you want to know more about how professional teeth whitening can transform your smile? Our expert staff at Ritchie Dental Group has gathered some of the most common questions about teeth whitening in Marble Falls and answered them below. We hope this handy FAQ section satisfies most of your questions or concerns. If you want to know even more about the Zoom! teeth whitening process – or if you feel ready to get started with brightening your smile – do not hesitate to contact our office today!
Is the Teeth Whitening Process Safe?
This is one of the most common questions we hear about teeth whitening and the answer is a resounding "yes". Teeth whitening at the hands of a dental professional is a safe and effective way to brighten your smile. While you may temporarily feel some mild sensitivity afterward, teeth whitening treatment will not compromise the integrity of your enamel. Dr. Ritchie has nearly 20 years of experience helping individuals rejuvenate their smiles with teeth whitening and other cosmetic procedures. He will be sure to prioritize your comfort throughout the procedure, including taking precautions to prevent your gums from coming into contact with the bleaching agent.
How Long Will My Teeth Stay White?
With proper care, your brightened smile will last for a year or longer. You can help keep your smile dazzling white by practicing excellent oral hygiene at home and visiting Dr. Ritchie for a routine cleaning and exam every six months. In addition, avoiding dark foods and drinks can help prevent your teeth from developing new stains in the future. If possible, limit your consumption of black coffee or tea, red wine, blueberries and pasta dishes with red sauce. It is also a good idea to avoid smoking cigarettes, as tobacco use can quickly re-stain teeth.
Are There Any Side Effects from Teeth Whitening?
There are typically no major side effects involved with professional teeth whitening from a cosmetic dentist in Marble Falls. Immediately following in-office whitening treatment, you may experience some slight tooth sensitivity or irritation of the gums. However, these are only temporary side effects and should quickly disappear after you leave our office and continue on with your day.
If you choose to whiten your teeth at home, Dr. Ritchie will provide guidance on how to properly use the at-home whitening kit to avoid tooth sensitivity or gum irritation.
How Much Does Teeth Whitening Cost?
The cost of teeth whitening in Marble Falls is influenced by a number of factors, including the extent of tooth discoloration. Because every smile is unique, the best way to determine the cost of treatment is to schedule an initial consultation with Dr. Ritchie. During this visit, Dr. Ritchie will carefully evaluate your teeth to create a personalized treatment plan, determine if any preliminary procedures are necessary, and discuss treatment costs.
Does My Insurance Cover Teeth Whitening?
Because teeth whitening is considered a purely cosmetic procedure, most dental insurance plans do not cover it. However, you can still obtain the white smile you desire without breaking the bank. At Ritchie Dental Group, we are proud to offer financing through CareCredit and LendingClub Patient Solutions. Custom payment plans from either of these organizations help ensure teeth whitening and other cosmetic procedures can easily fit into any budget. Ask our staff for more details!